Focus Series Brings 34th Annual Festival to Campus
by Emilie Jenson, Public Information Office
Posted on 3/8/2023
Anyone stopping by the Student Resource Center on the Iowa Central Campus Wednesday had the opportunity to take a trip around the world.
The 34th Annual Focus Festival of Nations celebrated the cultures and traditions of 26 different countries with educational posters, displays, presentations and food.
This year's Focus Country was Argentina, with a large display and soccer-themed activities and competitions celebrating the nation's 2022 World Cup Soccer championship. Argentina inspired food, including panqueques dulce du leche and choripan were also available for tasting.
Those in attendance were given a "passport" to take to each table to write a fact about the country and receive a stamp in their passport book. The day also included competitions and games from various countries, cornhole bags games and a DJ featuring musical playlists from countries around the world. At the end of the day, a drawing was held for two $500 scholarships for current students.
Displays were created by international students, ESL students and as research projects in classes.
Countries represented included Mexico, Japan, Taiwan, France, Ivory Coast, Benin, Brazil, England, Costa Rica, Canada, Tunisia, Saudi Arabia, South Africa, Australia, Bahamas, Norway, Colombia, Vietnam, Hungary, India, China, Argentina, Sierra Leone, Palestine, Zimbabwe, and Fiji.
This is the 34th year for the Dr. Mary Sula Linney Focus International Series. The series was created by Dr. Linney, a long-time employee, who was a Spanish instructor, department chair, and associate vice-president for the college until 2005. Iowa Central keeps her legacy alive through the annual Focus Country, and in particular, the festival.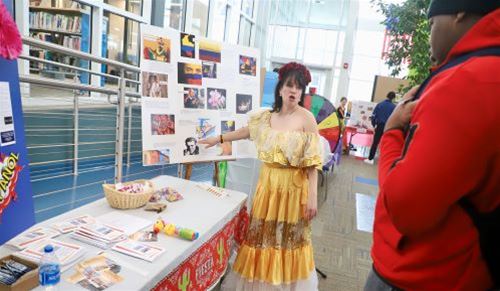 Iowa Central was the best academic and economic option for me.