Ribbon Cutting Held for New Art and Technology Building
by Emilie Jenson, Public Information Office
Posted on 7/11/2023
Iowa Central Community College officially opened the doors to its newest facility to the community with a ribbon cutting hosted by Iowa Central and the Greater Fort Dodge Growth Alliance Tuesday afternoon, July 11.
The new Art and Technology Building (ATB), located in the former Student Services Center building, underwent an extensive remodel over the past year to allow all arts and technology programs to come together in one space.
"We wanted to create a building that was going to encapsulate the importance of the arts, technology and computer sciences and everything our students do with them into one learning space," said Dr. Jesse Ulrich, Iowa Central Community College president.
According to Ulrich, the ATB is one of the final major projects funded in part by a $25.5 million bond referendum which was approved by voters in Iowa Central's nine-county service region in February 2018.
"This would not have happened without the support of our nine-county region," he said.
The newly renovated space includes an open layout with a makerspace studio for students in art programs as well as the Engineering and Design Technology program. The makerspace will house 3D and large format printers.
"This area will provide an opportunity for students to do their work, collaborate with others, and print their work all in one building," said John Hansen, Academic Dean.
The new ATB facility also features an art gallery, spacious classrooms, ceramics and painting studios, several faculty and staff offices, a technology helpdesk and a dark room for developing photos. An addition to the building created an area that is primarily windows, bringing the outdoors in for a new natural light photography and art studio.
"Of all of the projects we are doing, this is one of the most hardcore academically," Ulrich said, adding that all the construction around campus is a positive sign of progress for Iowa Central.
"Iowa Central is truly a gem in our area," said Matt Johnson, a member of the Growth Alliance Ambassadors. "To look around and see all that has been done here and all that is coming is truly remarkable."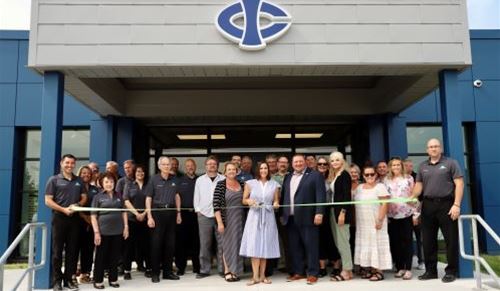 The coaches inspire me every day, not just to be a good dancer, but to be a better person, teammate, captain, and student. I wouldn't want to be anywhere else other than Iowa Central.