Activities Welcome Students Back to Campus
by Emilie Jenson, Public Information Office
Posted on 9/8/2023
The first two weeks of classes are in full swing at Iowa Central.
To welcome students back a variety of activities have taken place on campus and in the Fort Dodge community.
"The big thing is student engagement in these first few weeks," said Brandon Bush, Student Activities assistant director at Iowa Central. "We want to give both our on and off-campus students opportunities to meet and be involved and really feel at home with things they want to participate in."
Activities began on the first day of classes, Monday August 28, with an evening cookout and games on the lawn outside Triton Cafe, followed by Mentalist/Hypnotist Brian Imbus who entertained students in Student Resource Center on Tuesday, August 29.
One highlight for many students was the Back to School Bash, held at Fort Frenzy on Thursday, August 31. Students were given free two-hour passes to experience many of the activities Fort Frenzy has to offer, taking part in games, bumper cars, miniature golf and go-karts along with free Godfather's Pizza and treats provided by Great Western Dining.
Themed student participation at Iowa Central Athletic events is also a big part of the first few weeks on campus, bringing students out to volleyball and football games. Color Rush was the theme for a home volleyball game on Wednesday, August 30.
Free Food Fridays were held in the SRC with food and awareness speakers the first two Fridays and will be held throughout the academic year.
Sand volleyball with around 150 participants was held at a local venue on Tuesday September 5 and a community and club fair was held on campus Wednesday September 6 with various campus and community services, clubs and organizations in attendance to give students a look at what the Iowa Central and Fort dodge communities have to offer. The activities wrapped up on Thursday evening, September 7 with Bingo and pizza night in the SRC.
Bush said the activities were all well-received.
"The engagement of students has been very good," he said. "We had over 1000 at the cookout on the first day, gave out 450 passes at Fort Frenzy and have had around 400 students at the volleyball games. Coming to college can be a huge change for the students and this is a great opportunity for them to know that Iowa Central welcomes them."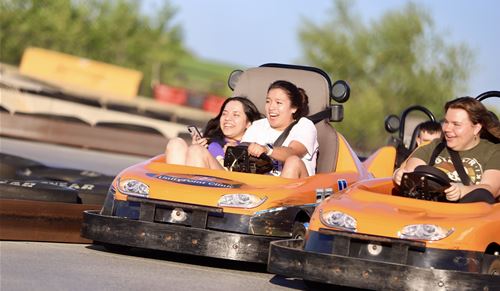 I chose Iowa Central because both of my parents came here and absolutely loved the environment. I was able to be a part of so many programs at once which isn't offered at other colleges. I knew right away after visiting that it would be a great school where I could better myself as a student and as an athlete.