Simulation Center Introduces HAL S5301 AI Manikin
by Emilie Jenson, Public Information Office
Posted on 9/19/2023
Iowa Central's William G. And Marlys Smith Simulation Center unveiled its newest teaching tool to the community Friday during an open house at the center, located on the fourth floor of Unity Point Heath Trinity Regional Medical Center.
The recently purchased Gaumard Scientific HAL S5301, is the center's first simulator manikin to be enhanced with artificial intelligence.
Named Hal, the new $135,000 addition is the first of its kind in Iowa, and one of few in the Midwest.
"What we have here, not even a lot of the larger hospitals or schools have," said Simulation Center Coordinator Julie Mertens. "Mayo Clinic and University of Iowa do not yet have a HAL."
In attendance for the open house was Ann Meyer, a state representative from Fort Dodge, who is also a registered nurse and former nursing instructor. Meyer served as Hal's nurse, demonstrating to the attendees how an assessment would be performed on the manikin.
"The first thing to remember is always treat him as if he is a real patient," Meyer said as she introduced herself to Hal and took his vitals.
Iowa Central's Simulation Center has nine teaching manikins, including a trauma patient, medical/surgical patient, newborn and pediatric patients and female and obstetric simulators. Hal is different in that he does not have to be operated by an instructor in a control room. Hal has the ability through Artificial Intelligence to recognize human speech, know his name, answer questions on his health history and "condition" and can be made to sweat, bleed, cry, present with various stroke symptoms and even go into seizure. Hal can respond to treatment given or have his condition worsen.
Hal is just one part of a significant investment to upgrade the simulation center, which opened in 2016, according to Iowa Central President Jesse Ulrich.
"We have invested three-quarters of a million (dollars) to replace all of our mankins this year," said Ulrich.
Ulrich said the simulation center allows Iowa Central's 150 nursing students to gain clinical hours outside of an actual hospital setting.
Four hours of simulation time are the equivalent of eight hours of on-site clinical.
"Fortunately, with our simulation center not all clinicals have to be at the bedside," said Ulrich. "Because of that we can put a lot more students through in a year."
Hal manikins allow students to experience a wide variety of cases and conditions they may not always encounter at the bedside.
"Manikins are a great part of healthcare education," said Meyer. "In the hospital a student may see a lot of the same cases; with manikins you can create a variety of different cases and scenarios and it allows students to learn from mistakes without harm."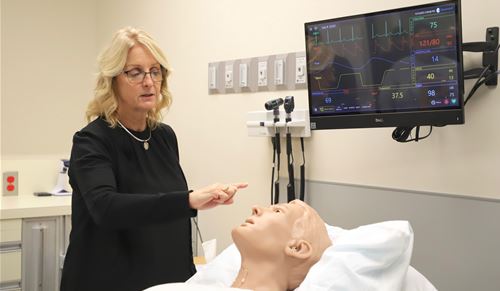 Diversity is important to me. For people to learn and grow, there must be diversity in the workplace, schools, and sports. That is another reason I wanted to go to Iowa Central; there are so many people here from across the world, all with different backgrounds and life experiences. I saw Iowa Central as an opportunity not only to grow in both academics and in athletics, but also to become a stronger person.