Iowa Central opens doors on state-of-art training center
by Iowa Central Information
Posted on 8/3/2021
The doors were officially opened and the ribbon cut at the Iowa Central Community College Training Center in Storm Lake recently.
The state-of-the-art facility will not only provide benefits for students of the school but also to businesses, educational partners and the communities that they serve.
"One of the primary benefits is that the new facility enables us to enhance student learning opportunities in this area of our region," said Chris Cleveland, director of the Storm Lake Iowa Central Center.
Students who enroll in the programs will be able to use current equipment that they will utilize in their future careers.
"There are many high-demand career and technical positions that students can prepare for at this facility and our other locations," Cleveland said. "The facility was developed with state-of-the-art equipment and a layout to meet the needs of all students."
Cleveland added that "this new facility is an important piece of Iowa Central's mission to provide quality educational opportunities to our students and community.
"Our deans, faculty, our economic development staff and administration continually explore best practices and methods for enhancing credit and non-credit educational offerings," he said.
Students will learn trades such as welding and industrial mechanics at the nearly $3 million building that is located on a 12-acre site on Lake Avenue North on the north side of Storm Lake.
Iowa Central plans to take advantage of the land around the facility, as long-range plans include construction on three more education buildings and possibly student housing in the future.
"The facility is the start of something in regards to centralizing all of our (local) services in Storm Lake," said Iowa Central President Jesse Ulrich, in an interview with Storm Lake Times. "This is not going to be the only building when it's all said and done that's sitting on this property. So it's very exciting.
"Storm Lake is important to us. It makes sense for us to be investing in Storm Lake, centralizing our operations here and continuing to grow with the community."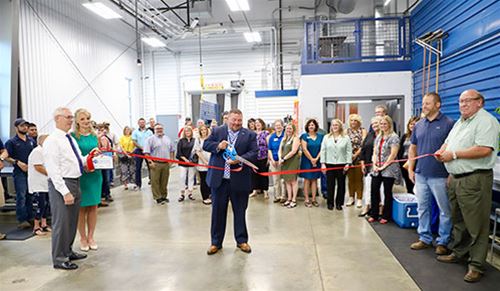 Iowa Central has given me the opportunity to learn the game (basketball), and play at the highest level.