Iowa Central PAS Competes at State Conference
by Iowa Central Information
Posted on 2/13/2019
The Iowa Central PAS Chapter participated in the State PAS Conference at Honey Creek Resort in Moravia, Iowa - February 6-7, 2019.
Mollie Upton was elected as a State Vice President, replacing current Vice President Mason Claude of Iowa Central.
14 students qualified for National Conference in Loveland , Colorado – March 12-16.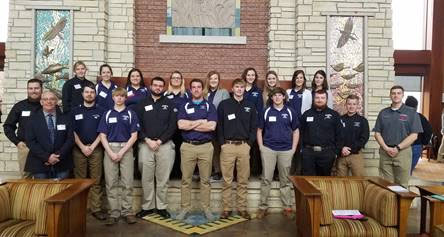 Individual National Qualifiers
Mason Claude – 1st Employment Interview – Agribusiness Sales
Mollie Upton – 1st Ag Education
Isaiah Miller – 1st Precision Agriculture
Olivia Mitchell – 2nd Prepared Speaking
Clay Johnson – 2nd Precision Agriculture
Sean Peters – 3rd Precision Agriculture
Team National Qualifiers
Crop Specialist – 3rd Mason Claude, Clay Johnson, Sean Peters
Crop Specialist – 4th Maria Tasler, Mariah Tasler
Equine Specialist – 5th Karissa Heath, Chania Vos, Quincy Rich
Overall Livestock – 5th Mollie Upton, Lincoln Miller, Isaiah Miller
Soil Specialist – 5th Trent Elbert, Noah Jepsen
Other State Competitors
Mariah Tasler – 3rd Employment Interview – Agribusiness Administration
Trent Elbert – 3rd Employment Interview – Crop Production
Noah Jepsen – 3rd Prepared Speaking
Jessica Kemp – 5th Employment Interview – Agribusiness Sales
Jessica Jacobs – 6th Ag Education
Maria Tasler – 6th Employment Interview – Agribusiness Administration
Olivia Erenberger – 7th Employment Interview – Livestock Production
Beef Specialist – 7th Olivia Erenberger, Jessica Jacobs,
Swine Specialist – 9th Jessica Kemp, Colton Klingson, Jeff Jones