Page 47 - 2016 Iowa Central Student Handbook
P. 47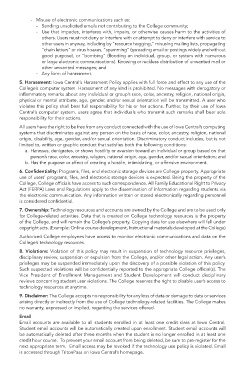 -  Misuse of electronic communications such as:
             -  Sending unsolicited emails not contributing to the College community;
             -  Use that impedes, interferes with, impairs, or otherwise causes harm to the activities of
               others. Users must not deny or interfere with or attempt to deny or interfere with service to
               other users in anyway, including by "resource hogging," misusing mailing lists, propagating
               "chain letters" or virus hoaxes, "spamming" (spreading email or postings widely and without
               good purpose), or "bombing" (flooding an individual, group, or system with numerous
               or large electronic communications). Knowing or reckless distribution of unwanted mail or
               other unwanted messages; and
             -  Any form of harassment.
       5. Harassment: Iowa Central's Harassment Policy applies with full force and effect to any use of the
       College's computer system. Harassment of any kind is prohibited. No messages with derogatory or
       inflammatory remarks about any individual or group's race, color, ancestry, religion, national origin,
       physical or mental attribute, age, gender, and/or sexual orientation will be transmitted. A user who
       violates this policy shall bear full responsibility for his or her actions. Further, by their use of Iowa
       Central's computer system, users agree that individuals who transmit such remarks shall bear sole
       responsibility for their actions.
       All users have the right to be free from any conduct connected with the use of Iowa Central's computing
       systems that discriminates against any person on the basis of race, color, ancestry, religion, national
       origin, disability, age, gender, and/or sexual orientation. Discriminatory conduct includes, but is not
       limited to, written or graphic conduct that satisfies both the following conditions:
         a. Harasses, denigrates, or shows hostility or aversion toward an individual or group based on that
           person's race, color, ancestry, religion, national origin, age, gender, and/or sexual orientation; and
         b. Has the purpose or affect of creating a hostile, intimidating, or offensive environment.
       6. Confidentiality: Programs, files, and electronic storage devices are College property. Appropriate
       use of users' programs, files, and electronic storage devices is expected. Being the property of the
       College, College officials have access to such correspondence. All Family Educational Right to Privacy
       Act (FERPA) Laws and Regulations apply to the dissemination of information regarding students via
       the electronic communication. Any information written or stored electronically regarding personnel
       is considered confidential.
       7. Ownership: Technology resources and accounts are owned by the College and are to be used only
       for College-related activities. Data that is created on College technology resources is the property
       of the College, and will remain the College's property. Copying data for use elsewhere will fall under
       copyright acts. (Example: Online course development, Instructional materials developed at the College)
       Authorized College employees have access to monitor electronic communications and data on the
       College's technology resources.
       8. Violations: Violation of this policy may result in suspension of technology resource privileges,
       disciplinary review, suspension or expulsion from the College, and/or other legal action. Any user's
       privileges may be suspended immediately upon the discovery of a possible violation of this policy.
       Such suspected violations will be confidentially reported to the appropriate College official(s). The
       Vice  President  of  Enrollment  Management  and  Student  Development  will  conduct  disciplinary
       reviews concerning student user violations. The College reserves the right to disable user's access to
       technology resources at anytime.
       9. Disclaimer: The College accepts no responsibility for any loss of data or damage to data or services
       arising directly or indirectly from the use of College technology-related facilities. The College makes
       no warranty, expressed or implied, regarding the services offered.
       Email
       Email accounts are available to all students enrolled in at least one credit class at Iowa Central.
       Student email accounts will be automatically created upon enrollment. Student email accounts will
       be automatically deleted after three months when the student is no longer enrolled in at least one
       credit hour course.  To prevent your email account from being deleted, be sure to pre-register for the
       next appropriate term.  Email access may be revoked if the technology use policy is violated. Email
       is accessed through TritonPass on Iowa Central's homepage.