Transportation Technology Center
Transportation Technology Center (TTC)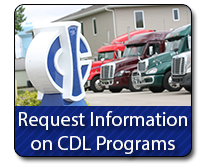 According to the ATA (American Trucking Association-Oct 2021 report) the trucking industry is short 80,000 drivers which is creating a supply chain slowdown.  Iowa Central is striving to help with the driver shortage by providing safe and skilled drivers to the trucking industry.  If you are ready for a career change, truck driving is a lucrative and in demand profession and we will give you the tools you need to be successful.
Iowa Central Community College is a Registered Training Provider, meeting and exceeding the FMCSA ELDT requirements (Theory and BTW).   We are also an authorized 3rd party testing center and all of our testing is done on site with our certified DOT testers.  
*All applicants are required by the DOT and the FMCSA to be able to speak, read and comprehend English.
What makes us different:
---
Financial aid-makes school affordable and with no money down to those that qualify.
Extensive behind the wheel time not only teaches students how to drive but also provides practice in real life situations.
More time to prepare for pre-trip, skills and drive tests. Testing done onsite.
Learn to drive manual and automatic trucks.
Onsite, furnished housing.
Out of state welcome, no extra out of state costs.
Recruiter visits to supply company information and pre hires.
Additional grants available to those that qualify.
GI bill approved.
To find out about the different courses we offer contact Jamie at 515-574-1964, text/call 515-570-3525 or click on the "Request Information on CDL Programs" icon.
Diversity is important to me. For people to learn and grow, there must be diversity in the workplace, schools, and sports. That is another reason I wanted to go to Iowa Central; there are so many people here from across the world, all with different backgrounds and life experiences. I saw Iowa Central as an opportunity not only to grow in both academics and in athletics, but also to become a stronger person.