Class A CDL Course
(only for those who obtained a CDL permit before Feb 7th, 2022)
---
One day of training consisting of pre-trip inspection, backing/skills training and road testing. (Same day train/test)
Must have written tests taken and possess a valid Permit. (General knowledge, air brakes and combination). You cannot be scheduled for testing in the truck until you have possessed the Permit for 15 days.
You must provide us with copies of your Driver's license and paper Permit prior to being scheduled to train/test.
This program is not a certificate course and is designed for those who need to obtain a CDL for personal use (such as grain, livestock, motor coach, ETC).
The one day program is not for individuals who wish to be over the road truck drivers; due to company policies the individuals who take this program will not be hired. Longer courses are available if you are interested in truck driving as a career.
Courses offered weekly (Mon, Tues, Wed), the training is from 6am to 1pm with testing to follow. DOT testing is done onsite.
Cost $400, his must be paid before we can register you for the class.
$400 includes the training and the use of our manual or automatic truck to test.
Check out the following websites to take a FREE cdl practice tests:
http://driving-tests.org/cdl-practice-test/
https://iowadot.gov/mvd/cdl/iowa-cdl-test-app
CDL Training/Licensing is Federally regulated. All must be able to read, speak, write, and comprehend in English (no interpreters are allowed per CDL Regulations/Laws).
Contact Us
---
Contact Jamie 515-574-1964 or Belecia 515-574-1971 for more information.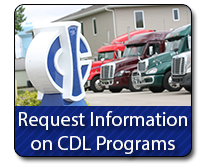 Iowa Central is awesome. There are personable teachers, a large campus feel, excellent music and drama departments, and the college is generous with scholarships. I've had some of the best experiences of my life here.