Full CDL Courses
ZST-206 - The PTDI Certified Course is 390 hours. Students will receive either a PTDI Certificate of Attainment or PTDI Seal of Attainment (placed on the Iowa Central certificate). A minimum of 47 Sessions (11 weeks) will be required.
139.25 hrs classroom
52.75 hrs lab
198 hrs in truck training
390 total hrs
The CDL training program consists of classroom, pre and post trip inspections, cab familiarization, proper shifting techniques (RPM ranges), basic control of equipment, turning, backing, and over the road trips. Classes are Monday through Friday 7:00am-3:30pm. Most students average 2,000 miles of driving experience in the program.
ZST-207 - On the Job Training (OJT) consists of 210 hours (4 weeks) with the students new employer (pay will be provided during OJT).
(click here to view upcoming start dates)
Requirements for Admission:
---
1. Minimum of 18 years of age or older.
2. Must possess a valid driver license.
3. Must possess a social security card (metal version not accepted).
4. Must have no more than 5 moving violations in the last 3 years.*
5. Must have no suspensions or serious moving violations in the last 12 months.
6. Must meet all applicable requirements of Federal Motor Carrier Safety Regulations including, physical, mental and vision.
7. No preventable accidents in the last 12 months.
8. No alcohol related offenses in the last 3 years.*
9. No drug related offenses in the last 3 years.*
10. Must be able to verify the last 10 years of work history (if applicable).*
11. Criminal history must be reviewed and approved prior to starting.*
12. CDL Training/Licensing is Federally regulated. All must be able to read, speak, write, and comprehend in English (no interpreters are allowed per CDL Regulations/Laws).

*Must be approved prior to starting.
Course Description:
---
The classroom prepares students for the concepts of operating a semi-tractor and trailer. The hands-on operation applies the learned knowledge into practical application. This time will be spent on inspections (all types), basic control, serpentine driving (control of trailer), backing (all types), proper set ups, turns, shifting, coupling and uncoupling, along with driving in (all types) rural, city and interstate conditions. Teaching a student to operate a truck safely at 80,000 pounds will include map reading, trip planning, logging, load securement, and proper weight distribution.
Classroom consists of:
---
Orientation/Job Application Process, Math Skills, Log Books, the Air Brake System, Transmissions, DOT Regulations, Tractor and Trailer Knowledge, Inspections, Defensive Driving, Hazardous Materials, Doubles/Triples, Map Reading, Trip Planning, Sliding Tandems, Weight Distribution, Types of Trailers, Federal Regulations, Safe Operations, Student Guideline Handbook, Computer Skills (qualcomm), Business Training, Leadership/Communication, Problem Solving, Trouble shooting and Load securement.
Behind-the-wheel time is spent on proper and safe driving techniques, including backing and cornering in a combination of city, rural, and interstate conditions.
In-truck training will put into practice the concepts learned in the classroom.
Topics include:
---
Hands on pre, post and in-route inspections (before operating equipment)
Proper seat, mirror adjustment, and cab familiarization
Shifting at proper RPM ranges (double clutching)
Basic control of your equipment (safe operations at all times)
Turning - set up, types of turns, and safe speed during turns
Backing - set up, type of backs, mirror usage, and safety during backs.
The early stages of training will develop driving skills in the rural setting, and as students gain confidence and skill, the training will move to the city driving aspects, incorporating backing and cornering.
As students attain the skill level needed for the DOT testing, we will practice skills box training, additional city driving, and backing.
After obtaining a CDL and in some cases while holding a permit, students may take some limited over the road (OTR) trips. This will also put into practice logging skills, map reading, trip planning, scale operations, weight distribution, load securement, night time operations and inspections.
After completing 390 hours at the Transportation Center you'll then begin your internship or on the job training with the company of your choice.
Iowa Central Community College has delivered semi-truck driving students to industry since 1971. We have a 98% placement rate into the job (per 2012 PTDI reporting). Semi-Truck Driving is a great paying career with excellent opportunities. Our hands on training, prepares you for the career you have chosen. There are many truck driving schools across our nation, be sure that you have chosen a good school with hands on training, loaded trailers, OTR trips and miles of experience.
If you would like an application to enroll in the program or have any questions, please call us.
Thank you, and let us help you start your new career.
If you have any questions please contact:
Jamie Hoshaw (Associate)
hoshaw@iowacentral.edu
515-574-1964
Full CDL Course Start Dates
---
Fort Dodge, IA (start dates are subject to change)

January 7, 2022
March 9, 2022
May 10, 2022

Fort Dodge, IA Evening Class

Please call for more information
Semi-Truck Driving Program Class Schedule
---
Week 1-2
Classroom (Map Reading I)

Week 3
Classroom (every Friday MR II)
Basic Control
Inspections
Coupling & Uncoupling
Serpentine w/trailer (turns)

Week 4
Classroom (Driver Improvement)
Backing Basics
Shifting
RPM Ranges
Rural Roads

Week 5
Classroom (Customer Service/Qualcomm)
Shifting
Rural Roads
Backing
City Driving

Week 6
Classroom (Stress Management)
Prep for DOT Testing

Week 7
Classroom (Load Securement)
City Driving
Directions
Tight Turns
Backing (increased difficulty)

Week 8
Classroom (Bus. Survival)
Backing 45/90 Degree
Trips (Short/OTR)
Backing
Driving (all types)

Week 9
Classroom (Preventative Maintenance)
Up Hill/Down Hill
Backing
Driving (all types)
Weight Distribution

Week 10
Classroom (DOT Scales)
Proper Loading
OTR Trips
All Aspects of Driving

Week 11
OTR Trips
Backing
Driving
Finals
Classroom

Week 12-15 (210 hours)
Orientation
Company Training
Contact Us
---
If you have any questions or want to schedule an appointment please contact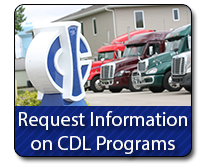 I chose Iowa Central because of the amazing opportunities and teachers. When I came to visit, I fell in love with the teachers in my program of study.